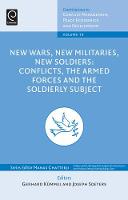 New Wars, New Militaries, New Soldiers?
Conflicts, the Armed Forces and the Soldierly Subject
Book details for New Wars, New Militaries, New Soldiers?
Hardback, 234 x 156 x 25mm , 370 pp, illustrations
11 Dec 2012
Emerald Group Publishing Limited
9781780526386
£77.95
Synopsis
This collection of sociological studies on the armed forces and conflict resolution deals with three types of developments the military is facing. First, the types of conflicts in which the military finds itself have become less predictable and more erratic, and hence, ways to respond are not easy to plan and organize. Apart from regular interstate warfare, the military nowadays is increasingly prepared to cope with irregular conflicts, such as terrorist threats and attacks, peacekeeping operations and indeed - warlike missions. Second, the economic conditions of many states are weakening. Citizens demand collective resources to be spent on care and cure, not conflict, therefore the way the military organizes and uses its resources to cope with the tasks they are set becomes increasingly important. Third, in most nations the conscript system has become history, and this creates new challenges in terms of recruiting volunteer soldiers. What becomes clear from the contributions to this volume is that the armed forces have to change their view of the world, the nature of conflicts and their profession greatly. Volume 19 of Contributions to Conflict Management, Peace Economic and Development presents the argument that the armed forces face a choice that will determine their position in society in times to come.