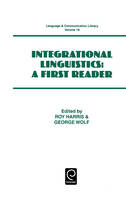 Integrational Linguistics
A First Reader
Book details for Integrational Linguistics
Hardback, 234 x 156 x 20mm , 360 pp, Illustrations
05 Nov 1998
Pergamon Press
9780080433653
€121.00
Synopsis
This collection of readings is complementary to "Introduction to Integrational Linguistics (Language & Communication Library, Vol.17)", but can be used independently. It brings together for the first time 24 key papers in integrational linguistics, and is intended to serve as a basic reading list for students and others making the first acquaintance with the subject. Originally published in sources that are for the most part out of print, these papers have been revised and updated by their authors where necessary. They are arranged in six sections: Language and Communication, Language and the Language Myth, Language and Meaning, Language and Discourse, Language and Writing, and Language and Society. An editorial introduction discusses the individual contributions and their relevance to integrationist theory.
Reviews
Hayley Davis, Goldsmiths College, London: There is certainly a need for a publication of books on integrational linguistics intended essentially for teaching purposes. I would recommend these books for all the courses that I teach. Vincente Lopez Folgado, Alfinge: Revista de Filologia: Product of the alluvium of different theories and models, epistemological inheritor of models ranging from early structuralism to the currently flourishing cognitivism, with a spirit that is eclectic and at the same time critical, integrationism collects the most profitable elements from all the [linguistic] theories that have pretended to the throne ... In short, a good anthological bundle of articles with a very different tone from what we are used to reading, a veritable breath of fresh air into [a discipline - linguistics - ] that is excessively straitjacketed by principles and rules of all shapes and sizes. Tony Bex, University of Kent, Language and Literature: ... integrationalism has emerged as a thriving school throwing up significant challenges to orthodox linguistics. The appearance of [this volume] is to be welcomed ... These chapters are particularly interesting precisely because they resituate the study of language in the circumstances of occurrence, and therefore give a distinct flavour of integrationalism in practice. More work like this will advance the integrationalist programme and force mainstream linguists to reconsider their own preoccupations.
Contents
Part headings and selected papers: Part One: Language and Communication. Language as social interaction: integrationalism versus segregationalism (R. Harris). Making sense of communicative competence (R. Harris). Part Two: Language and The Language Myth. A few words on telementation (M. Toolan). Integrating languages (N. Love). Part Three: Language and Meaning. Meaning and the principle of linearity (C. Hutton). Irony and theories of meaning (S. Farrow). Part Four: Language and Discourse. Conversational utterances and sentences (T.J. Taylor). Analysing fictional dialogue (M. Toolan). Part Five: Language and Writing. Analysis and notation: the case for a non-realist linguistics (C. Hutton). How does writing restructure thought? (R. Harris). Part Six: Language and Society. What makes bad language bad? (H. Davis). What problems? On learning to translate (M. Morris). Index.