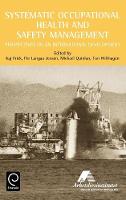 Systematic Occupational Health and Safety Management
Perspectives on an International Development
Book details for Systematic Occupational Health and Safety Management
Hardback, 234 x 156 x 30mm , 552 pp, Illustrations
05 Dec 2000
Pergamon Press
9780080434131
$161.95
Synopsis
In the past 15 years, the notions of systematic OHS management and OHS management systems have gained wide currency amongst regulators, employers and other parties in advanced industrialised countries. Indeed, these related but distinct concepts are now also finding their way into developing countries. Inducing employers to take a comprehensive, programmatic and preventive responsibility for OHS rather than just prescribing specific solutions has emerged as a major new regulatory strategy and this approach has also been voluntarily assumed by an increasing number of (generally large) organisations. Government methods to promote OHSM as well as the form and content of both these and voluntary management systems vary widely. There has been little attempt to critically assess the developments just described, let alone compare different forms of OHSM, examine the problems of implementing these policies or identify their strengths and limitations. This book seeks to address this gap.With diverse contributions from leading experts in Europe, America and Australasia, the book examines the origins, development, application and value of OHSM, as well as providing an international perspective on their effectiveness in managing ill-health at work. It also examines the impact of recent changes in economic, labour market, organisational and regulatory structures.
Reviews
The hottest book on the OHS shelves at present. Occupational Health News, Issue No. 485 An important and welcome addition to the literature for occupational health and safety managers and other related professionals. ...an outstanding breadth of learned and constructive discussion on both facts and hypotheses in this vital and urgent debate. The RoSPA Occupational Safety & Health Journal Anthony D. LaMontagne ...a much-needed comprehensive critical analysis of this recent international trend. This treatise is of particular relevance now both in the US and internationally ...an authoritative critique of the subject ... While the text is thick with detail, carefully coordinated writing and skilful editing keep a set of central themes apparent throughout. ...[a sociological view] is complemented by an impressively wide variety of disciplinary perspectives throughout the book - ranging from labour relations, to organizational behaviour, political economy, epidemiology, and more. Indeed, it is just such a diversity of perspective and participation that will be required for systematic OHS management to realize its potential. ...This book is the best one available for anyone interested in the international OHSMS phenomenon, and interested in steering the phenomenon towards the systematic management of OHS. New Solutions: A Journal of Environmental and Occupational Health Policy Allan St. John Holt ...but this is a treasure trove of a book. Experts from Europe, America and Australia cover international topics as divers as a comparison of risk assessments in four EU member states, safety management systems in Norway and Brazil, and an international perspective on promotion of health and safety in small workplaces. ...for those with international business responsibilities it is an essential read...well worth its asking price and likely to become the standard reference on comparative OHS system development. Safety and Health Practitioner Lawrence Waterman ...challenging and thought-provoking. ...For occupational hygiene practitioners, the arguments marshalled within the book will assist in deciding on the advice to colleagues. ...For those with a broader responsibility, in the political arena there is a strong cautionary note that managerial solutions area desirable, but not when they exclude either the workforce or wider society through the regulatory framework. Annals of Occupational Hygiene T. Carter ...provides a mine of information on the development of formalised health and safety management systems across the developed world...As a place for finding valuable and refreshing insights into the way in which a major new strand in prevention of harm from work has evolved it has little competition and will stand as a valuable record for the future. Occupational & Environmental Medicine
Contents
Part headings and selected papers: Foreword. Acknowledgement. List of Abbreviations. Contributors. Systematic occupational health and safety management - an introduction to a new strategy for occupational safety, health and well-being (K. Frick et al.). Politics and Strategies to Promote Systematic Occupational Health and Safety Management Reviewing occupational health and safety management - multiple roots, diverse perspectives and ambiguous outcomes (K. Frick J. Wren). Worker participation and the management of occupational health and safety: reinforcing or conflicting strategies? (D. Walters, K. Frick). The discourses and purposes behind the development of the EU Framework Directive 89/391 (D. Walters, P.L. Jensen). Organization theories implicit in various approaches to OHS management (K.T. Nielsen). The Applicability of OHSM in Changing Labour Markets and Business Structures. A study on safety and health management at work: a multidimensional view from a developing country (T. Dwyer). The diffusion of employer responsibility (T. Larsson). Implementation and Effects. Risk assessment in four member states of the European Union (A. Karageorgiou et al.). The Norwegian internal control reform - an unrealized potential? (S. Gaupset). To Integrate OHSM into Business and Management Development. If safety pays, why don't employers invest in it? (P. Dorman). Bibliography. Index.