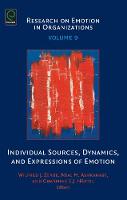 Research on Emotion in Organizations
Book details for Research on Emotion in Organizations
Wilfred J. Zerbe (volume editor), Neal M. Ashkanasy (volume editor), Charmine E.J. Hartel (volume editor),
Hardback, 234 x 156mm , 400 pp
29 Jul 2013
Emerald Group Publishing Limited
9781781908884
£77.95
Synopsis
Research on Emotion in Organizations is the publication of the Emonet listserv http://www.emotionsnet.org, which hosts the biennial International Conference on Emotion and Worklife. Chapters in the series include a selection of peer-reviewed papers from the conference, together with invited chapters by leading scholars in the field of emotion in organizational settings.